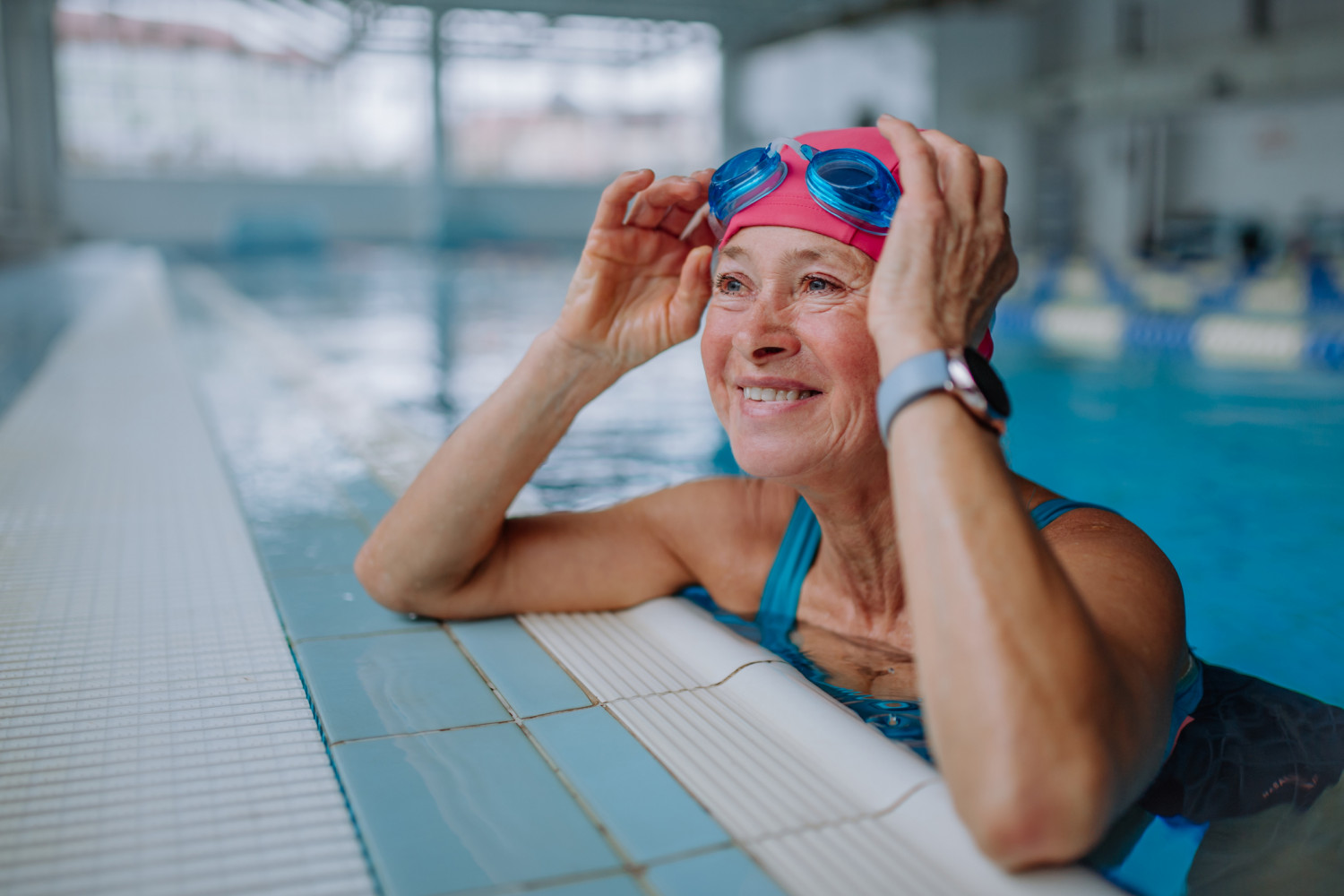 Aquatics Programs
Water classes and swim lessons tailored to meet your needs
Why water classes? Water exercise offers 12 times the resistance of land-based classes yet places 10% to 50% less stress and strain on your body and joints. Benefits include increased endurance, strength, flexibility, range of motion, balance, and core strength. Classes provide a challenging reduced impact option for all ages and fitness levels. An ideal way to cross-train from your high-impact/hard-hitting land workouts and still get a great cardio and strength session.
Aqua Blast is a varied-intensity class that combines cardio with strength-building for all fitness levels. Great cardio mixed with balance, core, and muscle-building segments, yet low impact on your joints, but great for strength, endurance, and burning calories. This class uses equipment; any movement can be modified to fit any fitness level.
Hydro Blast welcomes you to experience the best cardio and strength water workouts for every body part. Cardiovascular work, sculpting, and stretching make a terrific workout without joint stress. Enjoy this high-energy, low-impact water class suited for ALL fitness levels.
Open/Lap Swim is scheduled for members to use the pool for lap swim and other aquatic exercises. 1 to 2 lanes are open during Lap Swim times. Open Swim is scheduled for patrons to use the pool for a variety of different activities.
SilverSplash® offers lots of fun shallow-water moves to improve agility, flexibility, and cardiovascular endurance. A special SilverSneakers® kickboard is used to develop strength, balance, and coordination.

(Participants must be 12 years of age and older unless otherwise noted.)

Open lap swimming, water classes, swim lessons, and open family swim tailored to meet your needs. Reservations can be done two days in advance.
Sign Up for a Membership!
We believe in inspiring a lifelong love for swimming and respect for water safety. We provide a professional service at an affordable cost. Whether you are a beginner or preparing for competitive swimming, we have the class for you. We will always teach correct technique, so whether you join a competitive team or simply enjoy swimming, you will always be prepared. We believe that the best learning takes place while having fun.

Ashlee has taught and coached swimmers of all ages and abilities for 11 years. She has been able to swim independently since she was 2 years old and has been a competitive swimmer her whole life. Ashlee specializes in working with those in need of unique needs and overcoming fear of the water. Her passion for the sport shines through whether she is coaching, teaching lessons, or training adults for triathlons.

Swim Lessons

From 6 months old to Adult
Tuesdays and Thursdays from 5:00-7:00
Sessions are 30-minute classes for 4 weeks
Sessions start at the beginning of each month
Prices
4 Kids in a class swimming once a week- $55/month Per child
4 Kids in a class Swimming twice a week-$85/month Per child
3 Kids in a class swimming twice a week- $100/month Per child
Parent-Child Classes- Ages 2 & under $55/month
Sawtooth Kokanee Swim Team
For 5 years old to 18
Must swim 25 yards with rotary breathing and 25 yards backstroke.
We cater to all levels of interest, from recreational to high-level competition, with the core value of instilling a passion for swimming while creating friendships, leadership, discipline, goals, and being a part of a team.
Tuesday and Thursday from 6:00-7:00
(Saturdays are available for extra one-on-one technique work for an additional $10). 8 & under swim for 45 minutes.
Monthly Prices
Swim Team- $45-$60, depending on how long they swim.
Swim Lessons are provided by Ashlee & John's Swim School

E Street Community Center
1751 Elizabeth Blvd. Twin Falls, ID 83301 | (208) 733-4384